Welcome to Verwood
United Reformed Church
Manor Road, next to the Library, between Ferrett Green and the Post Office
email: verwood@urc-eastdorset.org.uk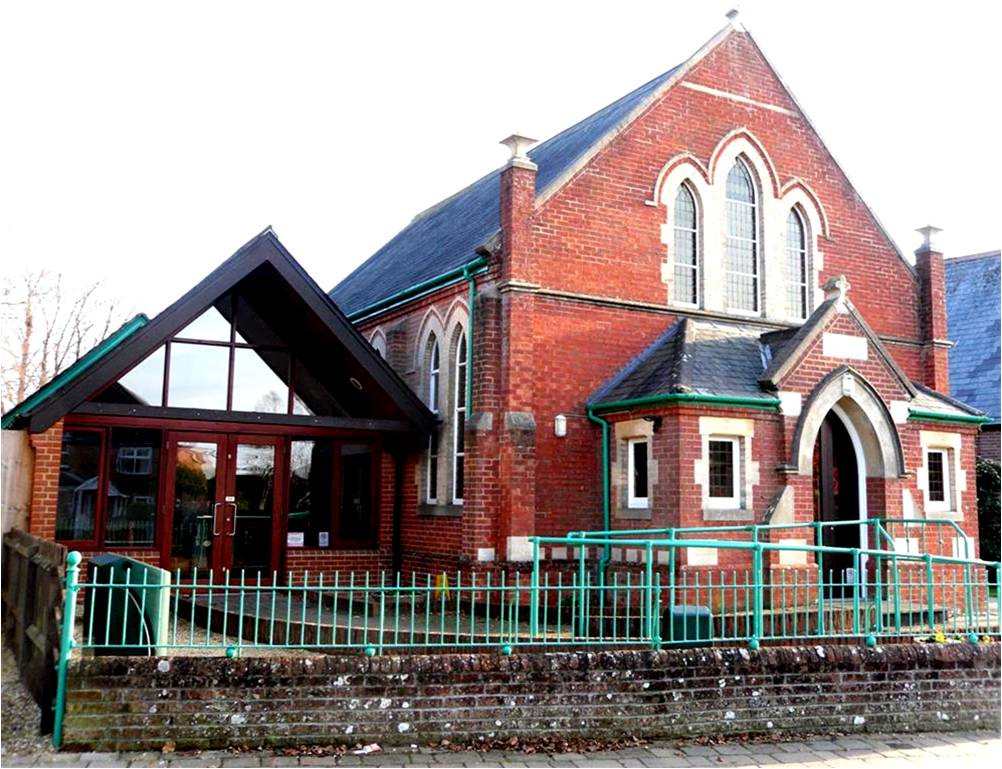 "To know Jesus better and to make him better known"

We are here for you – whoever you are!

Our main Sunday Worship is at 10.45am when all ages are very welcome.

The Sacrament of Holy Communion is celebrated on the third Sunday each month and at major Festivals.
Other regular activities include –

T

uesday (in term time): Toddlers, parents and carers, 9.30 -11.15am

Contact: Helen on 07860367955

T

hursday: The Church is open for prayer and reflection, 9.30 -11.30am

Saturday: Coffee 4 All, 10.00 – 11.30am

We are a Fair Trade Church and our Traidcraft stall is available at Coffee-4-All, usually on the fourth Saturday morning each month and after Worship on the following Sunday.

If you live in the Verwood area you can order Traidcraft items through us by email to dorothy.macro@dandjm.plus.com. More information available at http://www.traidcraftshop.co.uk

Other activities include "Coffee and Chat" on Monday mornings from 10am onwards till about 11.30am at the Heritage Centre on Ferrett Green – all welcome to join in.

February 2020 Calendar

Sunday Worship at 10.45am followed by refreshments in the hall
| | |
| --- | --- |
| 2nd | Revd Julian Macro |
| 9th | Revd Margaret Evans |
| 16th | Revd James Whately - This service will include Holy Communion |
| 23rd | Revd Margaret Tilley |
| 1st March | Revd Julian Macro |
| | |
Regular Activities
Mondays
11.30am – 1.30pm Food Bank Open
10am to 11.30ish "Coffee and Chat" at the Heritage Centre all who would like to join in for some or all of the time most welcome. A wide variety of topics discussed.
Tuesdays
9.30 – 11.15am Toddlers, Parents and Carers group - closed for half term on 18th February
Wednesdays
11.30am - 1.30pm Food Bank open
Thursdays
9.30 – 11.30 am Church Open for personal quiet time
Fridays
11.30am – 1.30pm Food Bank open
Saturdays
10 – 11.30am Coffee4All - everyone welcome. Please note that the Traidcraft Stall will be on 22nd February.
Dates for your diaries
Thursday 13th February
12.30pm Simple Lunch -Please remember to sign the list in the foyer if you would like to come
6.30pm for 7 pm start - South West Area Gathering of URC at Trinity Church, Ringwood. Topic - Prayer.
Monday 24th February
Start of Fairtrade Fortnight
Wednesday 26th February
Ash Wednesday the beginning of Lent
Our Minister
Revd James Whately tel. 01202 813908; mob. 07936902554; email: revjames.w8@gmail.com

Church Secretary is Dorothy Macro (also 01202 814270)

Church Treasurer is Chris Lyndon, (mobile no. 07789 834 520)

Our email address is verwood@urc-eastdorset.org.uk . If you would like to receive our weekly emails please send us an email and we shall be happy to add you to the circulation list.

Enquiries about hiring the hall – please phone Chris on 01202 821633

A little history….

Ours was the first Church in Verwood, founded in 1802 when some fearless missionaries came from Ringwood hoping to tame and convert the wild heathen on the heath: the work goes on, joined over the years by other Churches with whom we have an excellent relationship in Churches Together in Verwood. Our present building dates from 1906 with major improvements in 2000. The previous building is next to us; after the new Church was built it became the local school and is now the Library. We were originally known as an Independent Church, later Congregational and since 1972 a United Reformed Church which also includes Presbyterian and Church of Christ traditions.

We could tell you a lot more, but hope you will come

and find out for yourself –

we look forward to welcoming you