Welcome to Verwood United Reformed Church
Manor Road, next to the Library, between Ferrett Green and the Post Office
email: verwood@urc-eastdorset.org.uk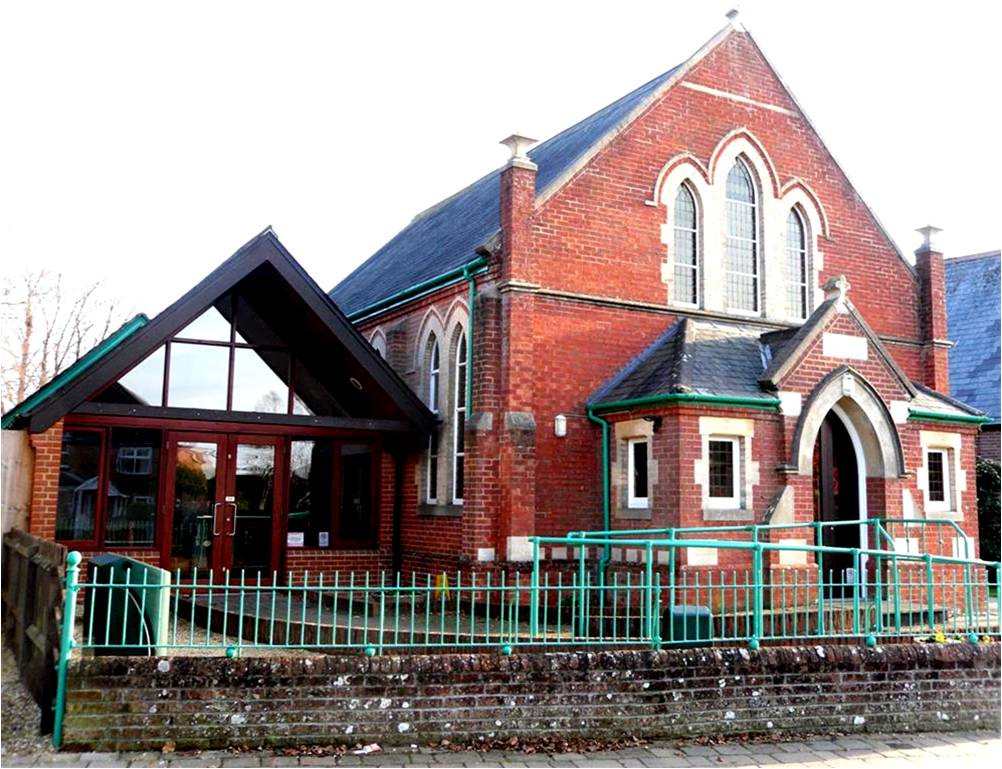 "To know Jesus better and to make him better known"

We are here for you – whoever you are!

Our main Sunday Worship is at 10.45am when all ages are very welcome.

The Sacrament of Holy Communion is celebrated on the third Sunday each month and at major Festivals.
Other regular activities include –

Tuesday (in term time): Toddlers, parents and carers, 9.45-11.30am

Contact: Helen on 07860367955

T

hursday: The Church is open for prayer and reflection, 9.30-11.30am

Saturday: Coffee 4 All, 10.00 – 11.30am

We are a Fair Trade Church and our Traidcraft stall is available at Coffee 4 All on the fourth Saturday morning each month and after Worship on the following Sunday.

If you live in the Verwood area you can order Traidcraft items through us by email to dorothy.macro@dandjm.plus.com. More information available at http://www.traidcraftshop.co.uk

Other activities include "Music for the Mind" at 10.30am on fourth Mondays and Lunch for those living alone on second Thursdays at 12 noon for 12.30pm.

-------------------------------------------

Verwood URC July/August 2017 Calendar

Sundays 10.45am, Morning Worship

July 2nd CTiV Exchange: Captain Eka of the Salvation Army

16th Holy Communion and Gift Day

Aug 20th Holy Communion

Mondays July 24th 10.30am Music for the Mind for those with memory problems and their carers. No meeting in August

Tuesdays July 4th ,11th , 18th 9.45am Toddlers, Parents/Carers Group

18th 3.15pm CTiV Messy Church in the Memorial Hall

Aug 22nd 10am – 12.30pm Open morning for families with young children - toys for toddlers, games/activities for older ones. Come when you can for as long as you can.

No Charge!

Thursdays 9.30 – 11.30am Church open for personal quiet time

July 13th 12noon for 12.30pm Lunch for those living alone

(no Thursday Lunch in August)

Saturdays

10 – 11.30am

Coffee4All:

Traidcraft on

22nd July

Summertime…

Summertime, and the livin' is easy
Fish are jumpin' and the cotton is high
Oh, your daddy's rich and your ma is good-lookin'
So hush, little baby, don't you cry

From Porgy and Bess, Gershwin, 1934
Well it is Summertime, but is the livin' easy? Not for those whose homes have been devastated by fire in London, nor those who live in fear that their own homes are unsafe, nor those who suffered terrorist atrocities in Manchester and London and too many other places in our troubled world, nor our Xn sisters and brothers in the Middle East, so often persecuted and made refugees by Islamic Terrorists. Glorious though Gershwin's tune is, for those aware of the troubled and uncertain state of our nation and of our world it does not seem right to assert that "the livin' is easy." How attractive it would be to wallow in blinkered nostalgia and take the Panglossian view that all is for the best in the best of all possible worlds – but is that how God sees our world, is it how God wants us to see our society and our world? Is it?

There is a saying of Jesus recorded at Matthew 10 34 which we find far from comfortable, "Do not think that I have come to bring peace on earth: I have not come to bring peace, but a sword." Surely this is the Sword of Justice?

Is real Justice evident in Britain today? Justice has a way of dividing people, especially the "haves" and the "have nots" – why is it, we may ask, why is it that we are told it is necessary to pay some people who are already receiving hundreds of thousands of pounds, millions even, yet more money to incentivise them to do their job - but at the same time we are told it is necessary to restrict the benefits of the poorest to incentivise them?.... Is it really just to have a society in which the rich get richer and the poor get poorer? … Of course, it takes courage and commitment to want justice for others when it actually costs us something – but let us be honest, are we really unwilling to pay a little more tax provided that it meant that those struggling to make ends meet, especially young families, get more help, provided that it leads to improvements in our schools, health and care services which are in desperate need of more resources to meet increasing needs? WWJD?
A little history….

Ours was the first Church in Verwood, founded in 1802 when some fearless missionaries came from Ringwood hoping to tame and convert the wild heathen on the heath: the work goes on, joined over the years by other Churches with whom we have an excellent relationship in Churches Together in Verwood. Our present building dates from 1906 with major improvements in 2000. The previous building is next to us; after the new Church was built it became the local school and is now the Library. We were originally known as an Independent Church, later Congregational and since 1972 a United Reformed Church which also includes Presbyterian and Church of Christ traditions.

The church currently has a vacancy for a Minister but the Revd Julian Macro (01202 814270 and 07586 255311, email, julian.macro@mansfield.oxon.org is available to offer pastoral support.

Our Church Secretary is Dorothy Macro (also 01202 814270) and our Church Treasurer is Alan Harley (01202 824060). Our email address is verwood@urc-eastdorset.org.uk . If you would like to receive our weekly emails please send us an email and we shall be happy to add you to the circulation list.

Enquiries about hiring the hall – please phone Chris on 01202 821633

We could tell you a lot more, but hope you will come and find out for yourself –

we look forward to welcoming you